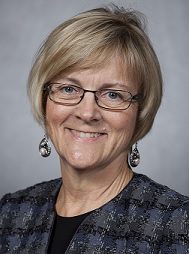 Susan D. John, MD, FACR, chairs the Department of Diagnostic and Interventional Imaging and is professor of Diagnostic and Interventional Imaging and Pediatrics at the University of Texas Medical School at Houston. She is Service Chief of Adult and Pediatric Imaging Services at Memorial Hermann Hospital – Texas Medical Center, Children's Memorial Hermann Hospital and Lyndon B. Johnson General Hospital in Houston Texas. She holds leadership positions at the UT Medical School at Houston and Memorial Hermann Hospital – TMC. She has held the John S Dunn Distinguished Chair in Radiology at UT Houston since 2002.
Dr. John completed medical school, a residency in diagnostic radiology, and a fellowship in pediatric radiology at the University of Texas Medical Branch in Galveston, Texas. She is board certified by the American Board of Radiology and earned a certificate of added qualification in Pediatric Radiology in March 1995, with Maintenance of Certification in Pediatric Radiology in July 2005. She served on the diagnostic radiology faculty at UTMB for nine years as assistant and associate professor. In 1998, she accepted the position of Chief of Pediatric Radiology at Children's Memorial Hermann Hospital, a position she still holds.
Dr. John developed a passion for acute care imaging in children early in her career at UTMB, under the mentorship of Leonard Swischuk, M.D. Her association with the busy Level I Children's Trauma Center and Pediatric Emergency Department at CMHH for the past 17 years has given her added opportunities to study and provide care for acutely ill and injured children. She is author and co-author of more than 80 peer-reviewed journal articles, many of which have contributed to improvements in emergency care for pediatric patients. She is co-author of the texts "Differential Diagnosis in Pediatric Radiology" and "Pediatric TB Radiology for Clinicians" and author of several book chapters on pediatric chest imaging, gastrointestinal imaging, and pediatric tuberculosis in major radiology textbooks. Her most recent areas of research include radiation dose reduction in digital radiography, appropriate utilization of diagnostic imaging, forensic imaging in non-accidental trauma of infants, and pediatric ultrasound applications.
Dr. John currently holds leadership positions as past president of the American Society of Emergency Radiology (ASER) and president of the Texas Radiological Society (TRS). She is a member of key committees of multiple radiological societies, including the Patient-centered Radiology Steering Committee of the Radiological Society of North America (RSNA), the Image Gently Steering Committee of the Alliance of Radiation Safety in Pediatric Radiology, and the Long-Range Planning Committee of the Association of University Radiologists (AUR). She served as councilor and alternate councilor to the American College of Radiology (ACR) for multiple years. 
Dr. John is strongly committed to radiology education and remains very active in medical student and resident teaching. Her relaxed and practical lecture style has resulted in numerous speaking engagements at pediatric and emergency imaging courses. She is currently a member of the Radiology Residency Review Committee of ACGME and will be honored at the upcoming ASER 2015 Annual Meeting as the Society's Gold Medalist.