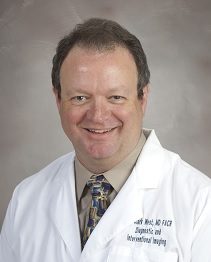 Dr. West has devoted his professional career to the imaging of acutely ill and injured patients. He joined the Radiology Department at Memorial Hermann Hospital-Texas Medical Center in 1997 and became chief of Emergency and Trauma Imaging in 1999. He has shepherded the growth of the Emergency Radiology section from two full-time faculty in 1999 to 13 faculty members in 2014.
Dr. West received his medical degree from Washington University in St. Louis and completed a diagnostic radiology residency at the Mallinckrodt Institute of Radiology and a combined fellowship in trauma radiology at the University of Maryland Medical System and musculoskeletal radiology at Mallinckrodt Institute of Radiology.
Dr. West is actively involved in radiology informatics, currently a dual role as vice-chair for Clinical Operations and Imaging Informatics. Early in his career, he worked on Project Spectrum, a joint venture between Washington University in St. Louis, Kodak Health Imaging Systems, and IBM to develop next-generation electronic radiology solutions. At Memorial Hermann, Dr. West has been a key member of design and operation teams for the Radiology Inform System and PACS since 1999. He currently chairs the Radiology IT Subcommittee, which advises Memorial Hermann on Radiology IT operations. He serves on both the MHH-TMC and the Memorial Hermann System Medical Informatics Committees.
Dr. West is an expert in the field of emergency and trauma Imaging. He joined the American Society of Emergency Radiology in 1992 and has held multiple committee positions and executive offices, culminating in service as president of ASER from 2006-2008. In 2009, he received the Gold Medal of the ASER, its highest honor. He currently serves as ASER Councilor to the American College of Radiology.
Dr. West devotes much of his nonclinical time teaching other radiologists about trauma imaging at meetings within the United States and internationally. He has been actively involved in the emergency radiology curriculum of the ASER, RSNA, and ARRS. He is one of the directors of the ACR Education Center course, Emergency Imaging for the General Radiologist.Imaging Skeletal Trauma, by L. F. Rogers and O. C. West was published in October, 2014.