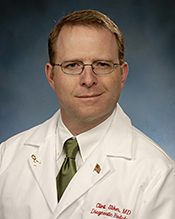 Clint W. Sliker, MD, FASER
Dr. Sliker is an associate professor of Diagnostic Radiology & Nuclear Medicine and a member of the Program in Trauma at the University of Maryland School of Medicine.  He has been a member of the Division of Emergency and Trauma Imaging at the University of Maryland Medical Center – R Adams Cowley Shock Trauma Center since 2002, serving as division chief from 2013 through 2017.  His clinical expertise is in the areas of Trauma and Emergency Imaging, and his academic interests include craniocervical vascular trauma, abdominal emergencies, and after-hours Radiology coverage.
Dr. Sliker has been a member of the ASER since 2001.  He participated as faculty member in multiple ASER Annual Meetings and served the society on multiple committees.  He also participates in the educational and committee activities in the area of Emergency Radiology for several other professional societies.