ASER 2020 Virtual Annual Meeting
September 30 – October 3, 2020



VIEW 2020 Meeting Program Brochure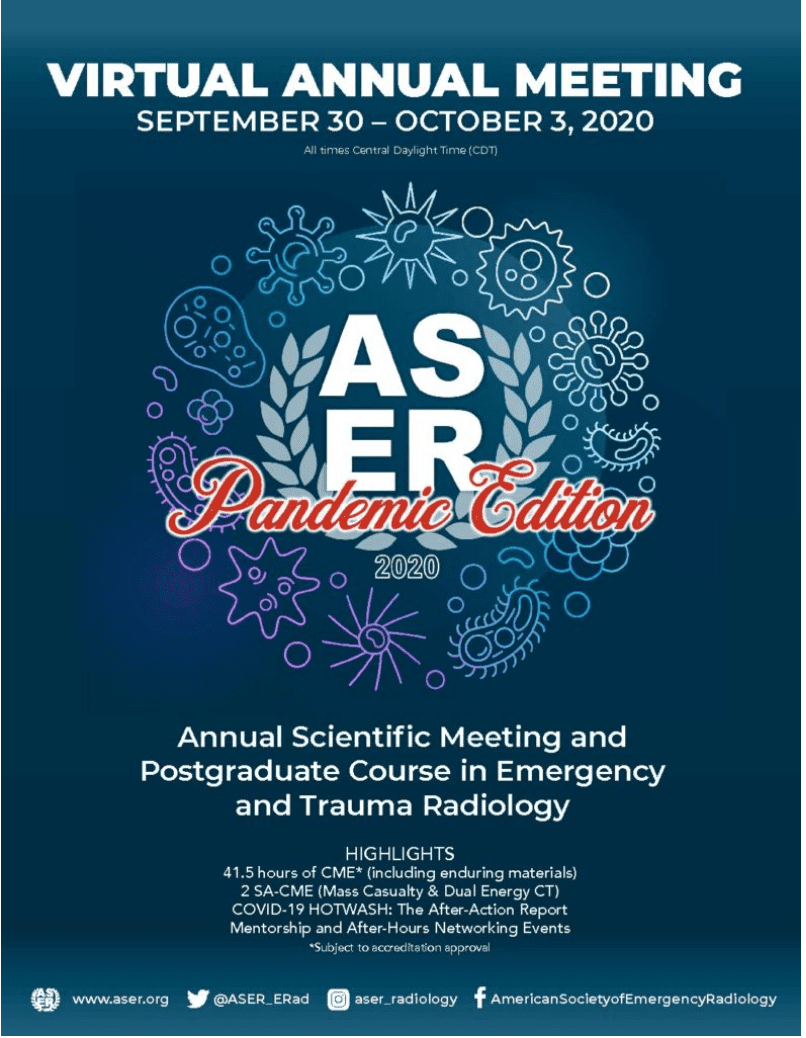 REGISTRATION FEES
Special Pricing due to COVID-19
Member Type
On or Before
8/15/2020

After 8/15/2020

ASER Member
$300
$350
Non-Member (Physician)
$425
$475
ASER Member-in-Training
$50
$100
Non-Member-in-Training
$150
$200
Allied Health or Military
$150
$200
Individuals from Developing Countries*
$50
$100
*Please click here for a list of countries from the World Bank.
Cancellation Policy: Cancellations must be received on or before July 29, 2020. A $100.00 cancellation fee will apply. No cancellations will be accepted after July 29, 2020.
EXHIBITOR INFORMATION
INTERESTED IN SUPPORTING THE MEETING?
ASER has developed numerous ways for companies to reach our members and meeting attendees!
Please contact us for additional information regarding support and exhibit opportunities via email at denise@veritasmeetingsolutions.com.



MEETING ARCHIVES
Looking for information about a past meeting?  Click here
EMAIL NOTIFICATIONS
All members and previous meeting attendees receive email notifications concerning meeting updates. If you would like to be added to the mailing list, please click here
CONTACT US
Please contact us for additional information via email at info@aser.org.
American Society of Emergency Radiology
1061 E. Main Street, Suite 300
East Dundee, IL 60118
847-752-5355